Our country's progress has been considerably aided over time by Singapore's Pioneer Generation. Learn how the Pioneer Generation Package recognizes and appreciates their contributions to the country, as well as if you qualify for privileges as part of the package.
Who Are the Pioneer Generation?
Singapore's rapid progression would probably not have been feasible if not for the Pioneer Generation's years of paving the road. The governing body has developed the Pioneer Generation Package to recognize and honour our Pioneer Generation's noble service and youthful sacrifices. About 450,000 Singaporeans are qualified to receive benefits under this program. Established in 2014, the $9 billion package offers a wide range of healthcare and social assistance services to assist eligible seniors in meeting their retirement demands.
Generally, Singaporeans born on or before December 31, 1949, are the target demographic for the Pioneer Generation Package. Additionally, you must have become a citizen on or before December 31, 1986, to be eligible. Consequently, younger Singaporeans are not eligible for Pioneer Generation benefits. Being beyond a specific age does not automatically make your eligibility status for the pioneer generation plan. It is exclusively intended for the roughly 450,000 citizens who satisfy the required standards.
Pioneer Generation Package Qualification
The following two requirements must be met to be a Singaporean citizen and qualify for the MOH guidelines on Pioneer Generation Package:
minimum of 16 years of age or older in 1965

Acquired citizenship on or before December 31, 1986
Using citizen records already in existence, the appropriate authorities automatically determine a person's qualification for the Pioneer Generation Package. Depending on the address listed on your NRIC, a letter notifying you in June 2014 if you qualify for compensation under the Pioneer Generation Package containing a pioneer generation card would have been sent to you.
Benefits of the Pioneer Generation Package
Seniors who qualify receive cheap prescription drugs, subsidized medical care, and in certain cases, direct financial support. The main categories of support to which pioneer seniors are eligible are briefly described here.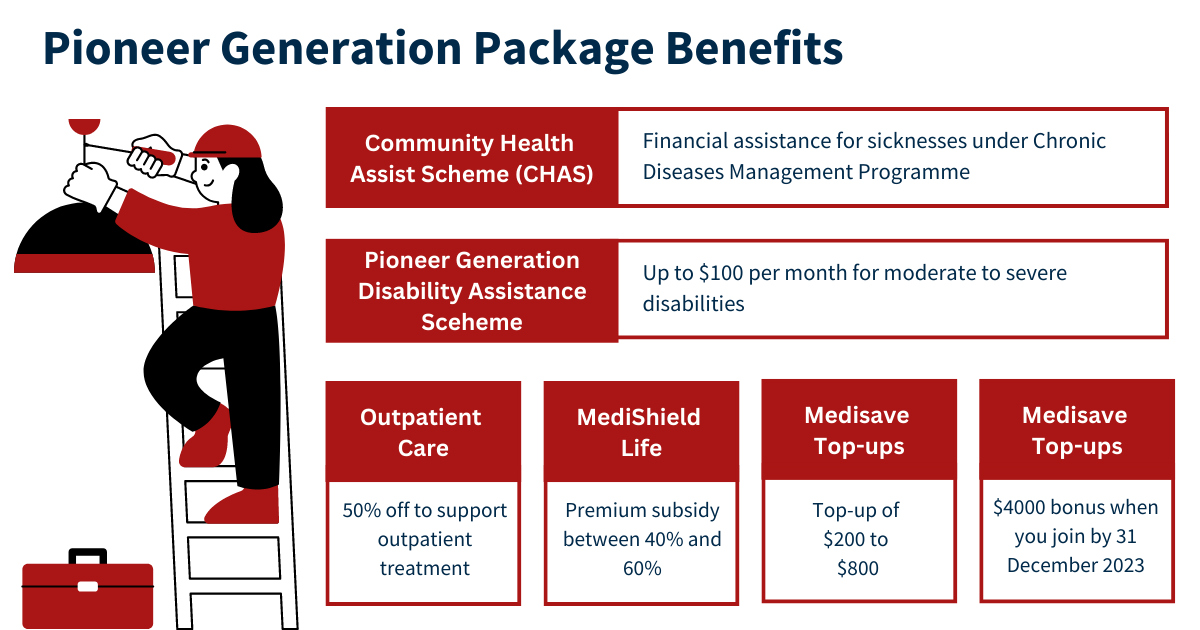 Outpatient Care
Singapore boasts one of Southeast Asia's greatest medical facilities, and its social welfare system is a particularly standout aspect of this system. Generally, lower and middle-income households already have access to a variety of subsidized services at public Specialist Outpatient Clinics. Moreover, polyclinics provide a 75% discount for subsidised services and medicines to those who are 65 years of age or older. Pioneer Generation also receives a further 50% subsidy to help with the cost of their outpatient treatment. The following information and prices for services that are subsidized:
Up to $28.50 for common medical conditions

Between $360 and $540 each year for chronic conditions (based on complexity)

Selected dental procedures range in price from $21 to $266
MediShield Life
The MediShield Life package provides health insurance to all Singaporeans and permanent residents. The Central Provident Fund's Medisave accounts are used to automatically deduct the cost of this insurance coverage from each person's account balance.
People who qualify for the Pioneer Generation Package are entitled to a discount on the Pioneers MediShield Life premiums they must pay each year. With a variety of factors, including the insured person's age, this subsidy might equal anywhere between 40% and 60% of the annual coverage.
Medisave Top-ups
Singaporeans are expected to contribute a set amount of their monthly salaries to Medisave. The total amount can be used to cover costs for inpatient stays, day surgeries, and some outpatient treatments for the individual and their closest loved ones. Nevertheless, seniors frequently find themselves in a situation where they lack the money to cover their medical costs. The government helps those Pioneers who are in need by adding $200 to $800 to their Medisave accounts each year, based on the MOF advisory for additional funding on Medisave top-ups.
Pioneer Generation Disability Assistance Scheme
As they become older, seniors frequently lose their mobility and may even struggle to do simple things like moving around or taking a bath. Such people receive monthly cash assistance of $100 under the Pioneer Generation Disability Assistance Scheme for the rest of their lives.
Pioneer Generation Package Financial Schemes
Community Health Assist Scheme (CHAS)
For involved general practitioners' offices and dental clinics, the Community Health Assist Scheme allows all Singaporeans to receive financial assistance for health and dental care. The Pioneer Generation Package includes unique CHAS subsidies available to Pioneer Generation cards. It includes financial assistance for treatments for common ailments, long-term problems under the Chronic Diseases Management Programme, certain dental procedures, and health screening covered under the Screen For Life.
Pioneer Generation Disability Assistance Scheme
As a component of the Pioneer Generation Package, the Pioneer Generation Disability Assistance Scheme was specifically designed for the Pioneer Generation. The PioneerDAS offers pioneers with disabilities up to $100 each month to cover care costs.
For the care receiver to be qualified for the PioneerDAS, they must:
Before submitting an application for the PioneerDAS, you should schedule a Functional Assessment Report with a general practitioner or other healthcare professional. The FAR is not necessary if you are submitting an application for one of the other severe disability programs, such as ElderFund, CareShield Life, or MediSave Care. You should instead make contact with a severe disability assessor who has been approved by the MOH advisory on additional funding.
Medishield Life
In general, the Central Provident Fund Board runs a national health insurance program called MediShield Life. It aids with covering large hospital expenditures and some pricey outpatient procedures like chemotherapy for cancer patients or dialysis for renal disorders. It is intended to assist people in paying for expensive medical expenses with less of their MediSave or savings. In 2015, MediShield Life took over as the mandatory national health insurance program's replacement.
All Singaporeans and Permanent Residents are covered, however, Pioneers can take advantage of additional advantages through the Pioneer Generation Package that goes above and beyond the standard coverage. If you were part of the Singapore citizens born in 1934 or earlier, the Pioneer Generation Package fully covers your MediShield Life premiums. This is because all Merdeka generation members in Singapore pay lower MediShield Life rates.
CareShield Life
In the event of a serious disability, particularly in old age, Singaporeans can get modest financial help through CareShield Life, a long-term care insurance program. It speaks directly to the necessity for long-term personal and medical care.
Born in Singapore in 1980 or thereafter:
When you are a Singapore citizen who becomes 30, regardless of any pre-existing physical illnesses or disabilities, if you were born after 1990 and will be under 30 in 2020.

If you were born between 1980 and 1990 and will be between the ages of 30 and 40 in 2020, subject to any current medical illnesses or disabilities, you are covered by default on October 1, 2020, or when you reach 30, whichever comes later.
Singaporeans who were born before 1979:
Membership is optional if you were born in 1979 or earlier and will be above the age of 41 in 2020. If you are not seriously handicapped, you can apply to join CareShield Life beginning in the second half of 2021, and no age restriction applies.

If you were born between 1970 and 1979, are between the ages of 41 and 50 in 2020, have ElderShield insurance, and are not seriously incapacitated, you will be enrolled in CareShield Life as of the end of 2021. If you do not want to continue with CareShield Life, you may also opt out by December 31, 2023.
Thus, the Pioneer Generation Package offers a $4000 participation bonus to entice Pioneers to apply to the annual CareShield Life premiums. If you sign up for CareShield Life by December 31, 2023, this incentive will be stretched out over 10 years and applied to lower your yearly rates.
The Pioneer Generation Package offers the services that seniors most require, including discounted medical services and health-related support. Given the expensive nature of healthcare, it is comforting for the elderly to know that they are eligible for financial support during their golden years.
It can be challenging and exhausting to navigate financial assistance and relief programs to give yourself and your loved ones the finest treatment available. Visit Red Crowns to learn more about the best nursing home in Singapore as well as other financial incentives and subsidies for caregiving.